Cute Vintage 70s Abe Schrader Novelty Club Print Woven Coat -
$125
Chic, Fun, Nicely Made
It's always a treat to come across a nicely designed, well-made vintage coat that's also got a fun side to it. This novelty weave coat from Maison Mendesolle is just the thing to satisfy both the classy and the sassy side of chic.

This vintage '70s piece is nicely fitted and expertly tailored. It's got a gayish beige spade or clover print that's woven into darkest navy (nearly black) rayon fabric. This fabulously rich looking, mid-weight textile would even be great worn as a dress. (We're not sure, but calling this a coat dress wouldn't be a stretch by any measure.)

The thing is festooned with two faux breast pockets, each adorned with faceted, jet black glass buttons. Those same buttons run all the way down the coat which cinches with a wide sash belt. The sleeves button at the wrists with jet glass buttons, too. The coat has princess seams and finishes at the hem with two deep, crisp inverted pleats for extra flare and mobility. The capper? There are two vertical slash pockets!

You are the type who enjoys some wit and whimsy in your wardrobe, aren't you? You like it when people compliment you on your unique sense of style, don't you? Of course you do. This vintage beauty makes it all happen with ease. Button up those buttons and have some fun!

---
Condition:
Excellent. There is one very tiny pick in the fabric which is hardly noticeable. That's located on the front of the coat below the bust.
Era: 1970s

---
Designer/Label: Maison Mendesolle Abe Schrader by Belle Saunders

---
Color: Dark Navy and a silvery grey color that's slightly beige
Fabric: Rayon that may have silk in it.
Fabric Notes:
Club or clover design is woven into the fabric.

---
Size: L
Measurements: Bust = 42 " Waist = 38 " Hip = 44 " Shoulder = 16 " Sleeve = 23 " Length = 41 "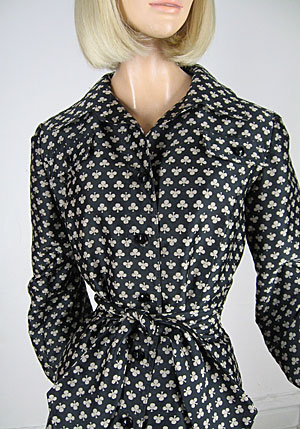 Click For More Images
Will this item fit you?
To avoid disappointment and restocking fees, please read our
Sizing Guide for complete measuring and fitting information.